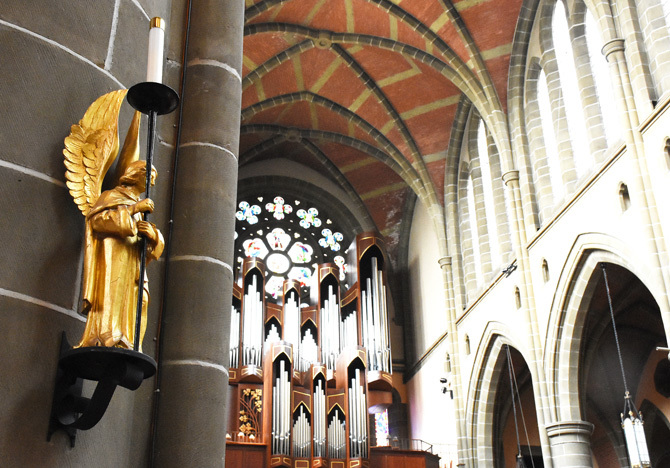 Each year, Christ Church Cathedral in Victoria welcomes over 20,000 visitors and with increasing numbers of tourists in the region, we anticipate that number will increase significantly. The Cathedral provides an open and welcome place for visitors and many take self-guided tours. A few book ahead and take a tour with one of our expert volunteer guides. They tell us that it makes all the difference to their understanding of this magnificent gothic building.
It is our intention to provide regular opportunities for visitors to complete a guided tour of the Cathedral. This will be in addition to the occasional special tours that groups book privately with our Cathedral tour guides. This regular schedule of tours, under the title "Discovering the Cathedral", will vary depending on the season. We anticipate offering three tours per week in the peak visitor season, reducing this to one or two tours per week in the early spring and late fall. To realise this and to launch the program, we need to gather and train approximately 20 volunteer Cathedral guides who will play a special role in helping our visitors. All will receive professional and free training and will work as members of a team.
What kind of people become Cathedral Guides?
Cathedral guides come from all walks of life. Anyone aged over 18 is welcome to apply. A main quality we look for is an ability to engage with a wide variety of visitors and capture their interest. If you enjoy meeting people, show an interest in and enthusiasm for the Cathedral, have a good sense of humour and are willing to learn both the history of the Cathedral and a number of intriguing stories, this may be a role that you would enjoy.
What do Cathedral Guides do?
The "Discovering the Cathedral" program will offer public tours at regularly scheduled and advertised times each week. Guided tours typically last approximately 50 minutes.
We intend to guide groups of visitors who registered to take a tour, sometimes on a special topic or in another language (the visiting group will be responsible for translation) and groups of school children and students.
Walking around the cathedral answering questions and showing people where things are is an important aspect of leading tours. Visitors tell us that chatting with a guide or steward is often what makes a visit really memorable.
You will need to make a commitment of two or three hours per month.

What kind of training is involved?
All our guides will receive professional training prior to leading a guided tour. Training will include detailed content, identification of the most interesting and significant elements of the Cathedral, practice in telling the stories of the building and community in interesting and dynamic ways. Training will include using practice scripts, participating in tours alongside veteran guides and reading current histories of the Cathedral.
We encourage all our guides to take part in ongoing training so they continue to build their knowledge and skills.
What kind of support can I expect?
You will not be working alone. All our guides will be members of a team and will have ongoing opportunities to discuss the work and to share ideas.
The Friends of Christ Church Cathedral oversees recruitment, training and information activities. It also develops new tours and organises social activities.
Will I enjoy the work?
We hope so! Our guides tell us that the job is a great source of pleasure and satisfaction, for many reasons:
• meeting people from all over the world
• learning about the Cathedral
• making new friends
• gaining in confidence to tell stories and interact with others
What kind of people will I meet?
The majority of our visitors are tourists, visiting us from all parts of the world. You may also meet students, historians, art experts, architects, and theologians, many of whom have us on their list of places to visit. We also welcome church groups, visiting as pilgrims to admire and worship.
What kinds of things might I be showing visitors?

There are many wonderful and interesting things to show and stories to share with visitors. Some of the highlights you might be describing include:
• the story of the robin
• the bird in the baptistry
• the Bishop's Chair from St. Paul's Cathedral
• the "Breeches Bible"
• the Chapel of the New Jerusalem
• the Cathedral bells
• the Coventry Cross of Nails (beginning in June 2019)
• the pulpit
How can I find out more?
If you think you might like to join us in this project or would like to get more information, please get in touch! Email to [email protected] or call Jennifer at 250.383.2714. Guide training will begin after Christmas and we hope to have the expanded program running by April 2019.
Pre-booked guided tours are coordinated by Helen Goodchild, through the Church
office. The scheduled tour program "Discovering the Cathedral" described above, is coordinated by the Friends of Christ Church Cathedral.
-Malcolm Read