Cathedral Newsletter
Cathedral Newsletter
Cathedral Newsletter
Cathedral Newsletter
Every Sunday, a hardcopy newsletter goes out with the service leaflets. You can access the most recent issue here. If you wish to see an older newsletter, please email the [email protected] and we can forward it to you.
The photo of the Cathedral heading this section was taken by Steve Smith.
Available Files to Download
To download, right-click the file and select "Save link as".
News
---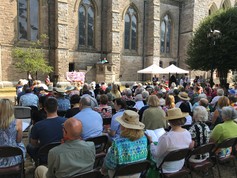 Talking to each other: Take the survey!How do you like your Cathedral news served up? The Cathedral community generates lots of news in several formats, and we want to know your preferences. Please complete this... Read More