Special Choral Evensong to start the Academic Year
Special Choral Evensong to start the Academic Year
Sunday, September 10, 2017

Important: This event has already occurred.

4:30PM - 5:30PM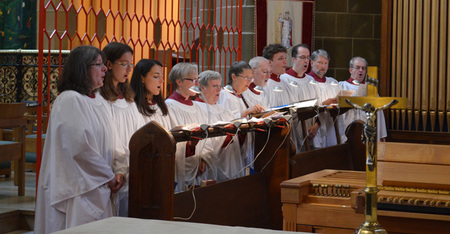 Choral Evensong at Christ Church Cathedral
A special service to start the academic year

Inviting students to today's special Choral Evensong service of welcome for the start of the academic year.
Whatever your faith tradition, or world view, you are welcome to enjoy the beautiful space of Christ Church Cathedral and let yourself be surrounded by glorious music. It is a time to think, reflect, and be still.
Choral Evensong is sung every day in cathedrals and monasteries. The service uses a variety of choir anthems and musical settings for key texts from the Bible. The settings and anthems change each week, and will come from different periods of history right up to the present day. This service is part of the long tradition of English sacred choral music. Amid the music there is a short time for prayer and personal reflection.
Choral Evensong is regularly held at 4:30pm every Sunday. The service is open to all members of the public. Just turn up and enjoy the glorious music and space to reflect and ponder.
Christ Church Cathedral is located at Quadra and Rockland in downtown Victoria.
Please join us for refreshments after the service.
Music Choral Evensong
Return to Events
---