This event has already occurred
Save to your Calendar
Join us for a Pride Service in collaboration with St. John the Divine on June 29 at 6pm
The service will feature guest speaker Dr. Mary Ann Saunders and will be presided over by The Very Rev'd M. Ansley Tucker. Mark McDonald, our Assistant Director of Music will also debut a new pride anthem on the organ.
The event will be followed by a reception, with refreshments, in the nave with special musical guests, including performances by the Klezbians - a band of primarily queer, mostly-Jewish women, who delight in sharing the toe-tapping, contagious melodies of Jewish and klezmer tunes. The reception will also feature a duet by Cathedral choir members Caroline Allen and Juliet Beckwith – accompanied by Mark McDonald, Assistant Director of Music.
The event will be in person and livestreamed.
ADD THIS EVENT TO YOUR CALENDAR
Sing in the Pride Service at Christ Church Cathedral
Calling all singers! Come sing in our pick-up choir for our Pride Week Eucharist service on June 29. All singing abilities are welcome!
Assistant Director of Music Mark McDonald will run a brief rehearsal at Christ Church Cathedral on Wednesday June 22 from 5.00pm to 6.00pm to go over the music (some hymns, an anthem written by Mark McDonald himself, and a mass setting by David Hurd).
The service is at 6.00pm on Wednesday June 29 during Pride Week in Victoria. Come make a joyful noise with us!
RSVP HERE. Music packages will be sent out to registrants.
Download and print the music package here (link)
What: Pick-up Choir for Pride Week Service
Where: Christ Church Cathedral (enter via Burdett Street for the rehearsal)
When: Rehearsal on Wednesday June 22, 5.00pm to 6.00pm; Service on Wednesday June 29 at 6.00pm (choir call time at 5.00pm)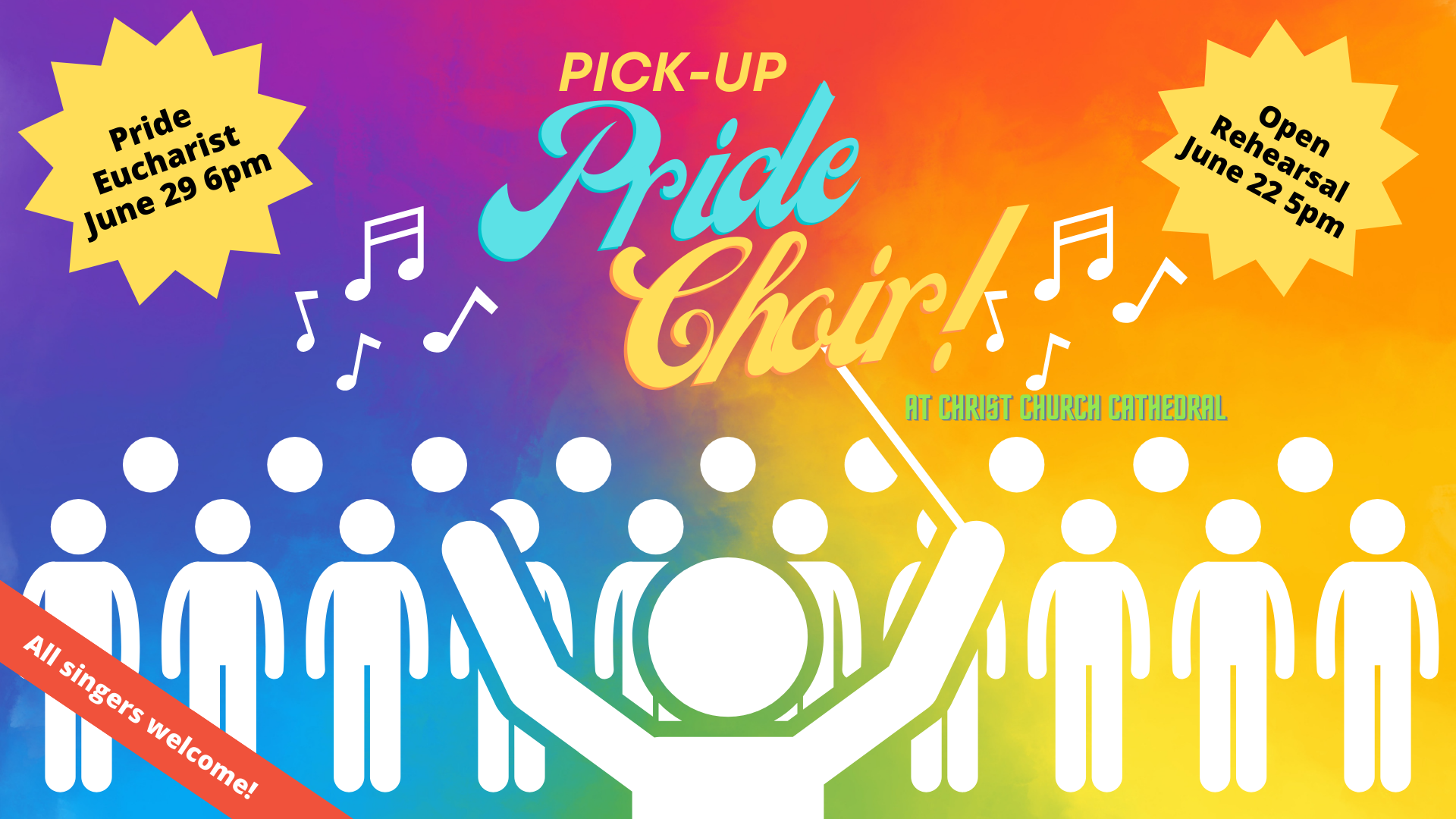 Register Here to sing in the Pride Choir

<![CDATA[Qlk2UnZTdnlUdE5yajJDcDN2Vmx0S05BTFJESk12ZVhvUjZwY1F1OElqc2pnTE02WjMwK3BQeGZjTDAvQnZYekE2NmNOVSs0emZZVEhoYVJ5TWl0ekdpek8wUks1WjlDd2RtRERSc2RHeTMyT3QvLzhpZUtNV1lxaG5vTkFESWxqVVlnVmZza1JvVlJjVkk3OW10RXNRPT0tLUFEa3BhUDgzdXgzZGEvNE9GTnptVnc9PQ==--606119193e5cb92b94a3255b73e4932477546edc]]>