CCCS Spring Concert
CCCS Spring Concert
Wednesday, June 14, 2017

Important: This event has already occurred.

6:00PM - 7:00PM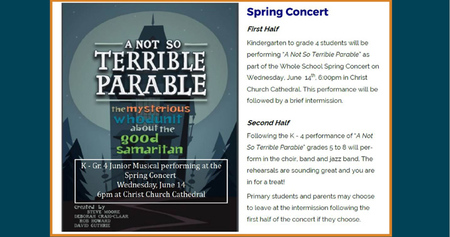 The school year is almost over, and it's time for time for another wonderful Spring Concert!
During the first half, Kindergarten to Grade 4 students will be performing "A not so Terrible Parable." This will be followed by a short intermission.
During the second half of the concert, students from Grades 5 – 8 will perform in the band, choir and jazz band.
Please come and join us!
About U Christ Church Cathedral School
Return to Events
---