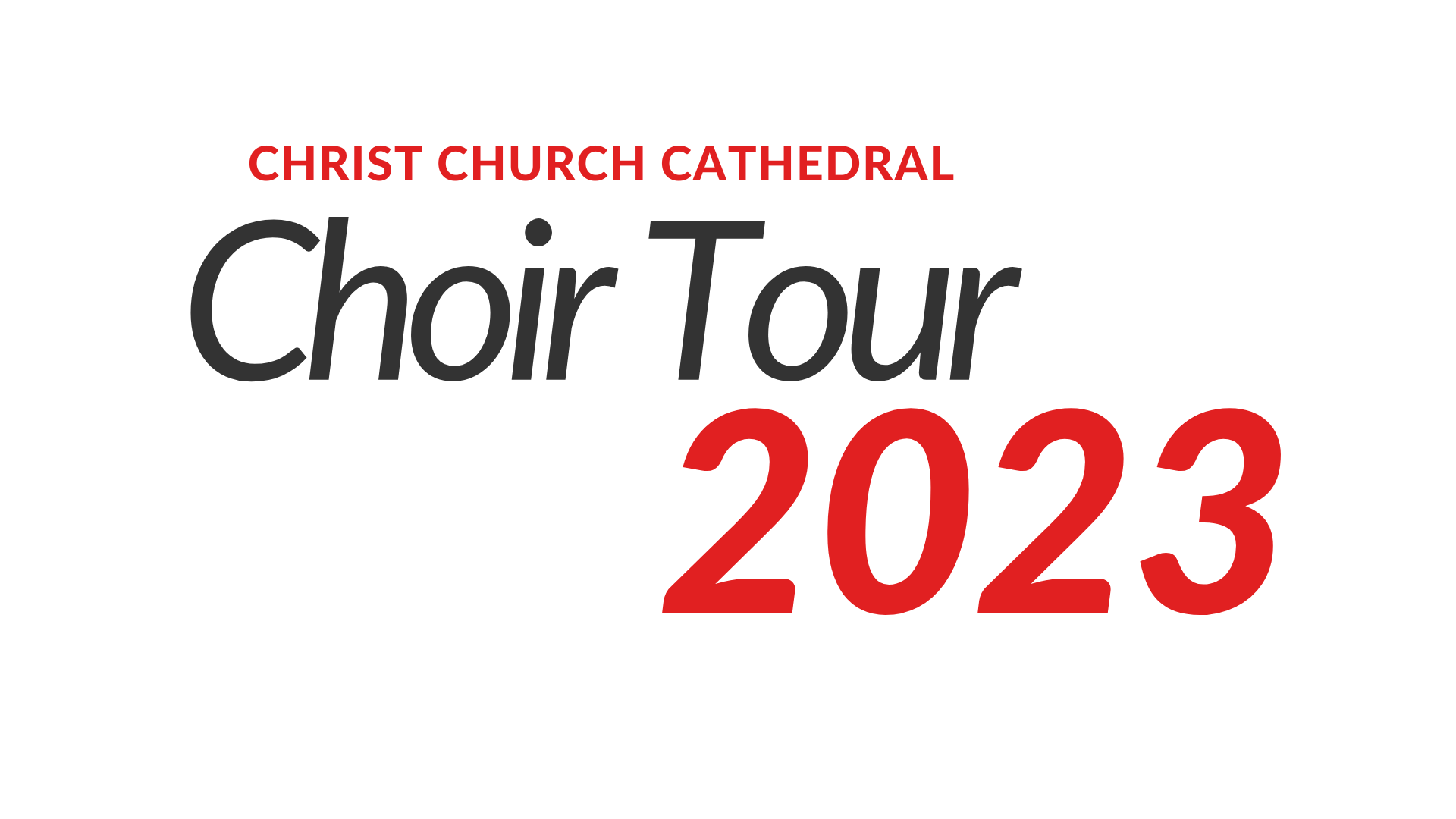 Choir Tour 2023

Update May 18, 2022 - Online Auction Launches on May 25th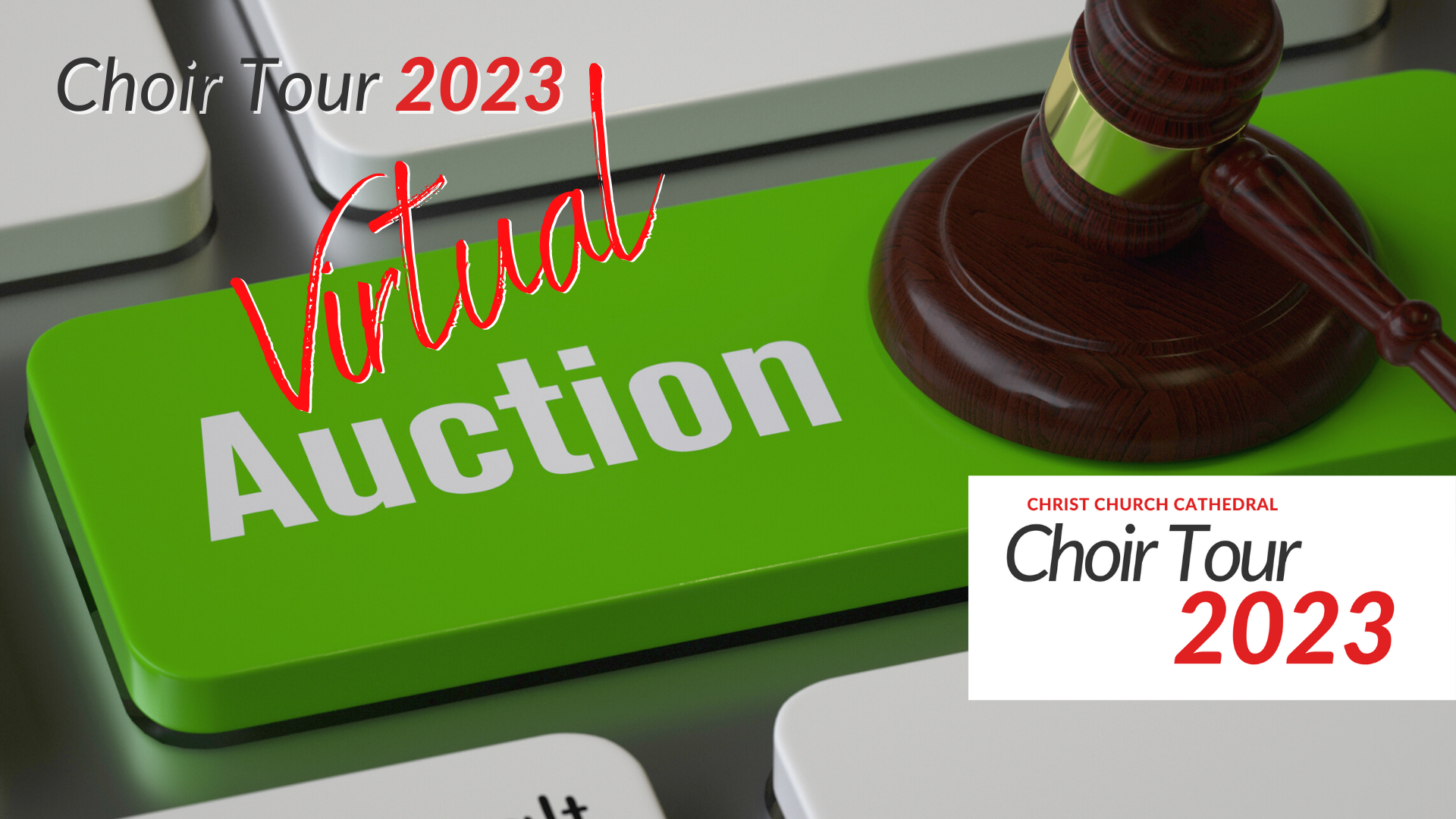 Coming May 25th!
A Virtual Silent Auction to support the 2023 tour to the UK by the Young Choristers and Choral Scholars of Christ Church Cathedral Victoria will open at 12:01 on Wednesday, May 25.

While significant funds are being raised through special events, bake sales, and even a beach clean-up, the $10,000 fundraising goal for this auction makes it a vital component of our effort to support the tour's overall expenses.

Our auction website is now available HERE for you to view the bountiful array of donations from Victoria individuals and businesses who have enthusiastically added their support. The list of gift certificate donations includes dining at Aura Restaurant at the Inn at Laurel Point, Riding Lessons at Silverstone Equestrian and Preparation of a simple will by Victoria's MacIsaac Group of Law Firms. Exciting donations continue to arrive.

Bidding on our virtual auction items is a great way to have the double pleasure of supporting the choirs, and, if you're lucky, securing one of the amazing finds!

Online bidding will begin at 12:01 on Wednesday May 25, and come to a close at 6:00 pm Wednesday, June 1.
The formal "launch" of the online auction will take place directly following Evensong on Wednesday, May 25 at 5pm (which will be sung by the Young Choristers and Choral Scholars). The service is open to in-person attendance and will also be livestreamed HERE
---
Cathedral Choir and the Young Choristers Tour Dates:
We are blessed to live in an incredibly beautiful part of the world. But singing in an Anglican Cathedral chorister program can be lonely work without similar programs to put our work into context.
In October 2019, the newly formed Young Choristers of Christ Church Cathedral spent a successful long weekend in Seattle singing services and socializing with the choristers of St Mark's Episcopal Cathedral. They returned with a renewed understanding of their work, a team ethos, and a fresh sense of purpose. Now it's time to think bigger! In 2023, our Young Choristers, Choral Scholars, and Adult Cathedral Choirs will be going on tour to Scotland and the north of England, singing daily services in St Mary's Cathedral, Edinburgh and Durham Cathedral. The primary purpose of the trip is to discover what it's like to make music in sacred places where we will be contributing to a tradition of daily choral worship. Of course, it wouldn't be a choir tour without fun excursions!
Here are some of the activities we have planned:

• Discovering the Royal Mile
• Climbing Arthur's Seat (an ancient volcano in the middle of Edinburgh)
• Learning about the animal kingdom at the Edinburgh Zoo
• Camera Obscura (chamber of illusions)
• Durham Castle
• York Minster
• Rosslyn Chapel (featured in the DaVinci Code)
We need your help to make sure no choir member is left behind!
"I joined the Christ Church Cathedral Girls choir in Ottawa when I was 9 years old because I loved to sing. As I sang year after year I started to realize that choir itself, and specifically a Cathedral choir, is so much more than just singing to me. From the music education I received through choir I was able to advance my studies at University of Victoria and graduate with a degree in Classical Voice Performance. Singing in a Cathedral is an experience I do not take for granted. The beauty of the building itself mixed in with the beauty of making music is spectacular. Going on tour and getting to have more experiences singing with others, as well as taking in all the history that Cathedrals have to offer gives me the chills! I am very excited for this opportunity." -Olivia Duffin, Choral Scholar

"I would love the opportunity to be able to travel and experience other churches' musical environments. I think we share a lot of unifying practices with churches like ours across the globe, but seeing that firsthand would be totally eye-opening. Also, I've wanted to visit Durham since long before I even had any sort of involvement with the Anglican church." - Jordan Rettich, Choral Scholar
<![CDATA[dHVKdFBZTWVSNm9BSTNRaGFrdUZMcURFL3NSQ01DWGlpOWlpbjkzTDVDMUNUWXlJUWZ6RUtzU1NVeis1cXlQbmFhQkpJQjZmdTBBYi9RV202Y2RWcnA2Z1MraDlqTFFwdDZJckRpTTNZb2pCcjhGbHppWEt6SGI1cy9DaW92bEYzWTJIb05HMVkzRjBaNWR4REx2YjF3PT0tLXJkQjJVQThJTlFlYWRHUlE3M2JoSWc9PQ==--349192f0bea92a0f66b8a7578cf35e680e9ef669]]>