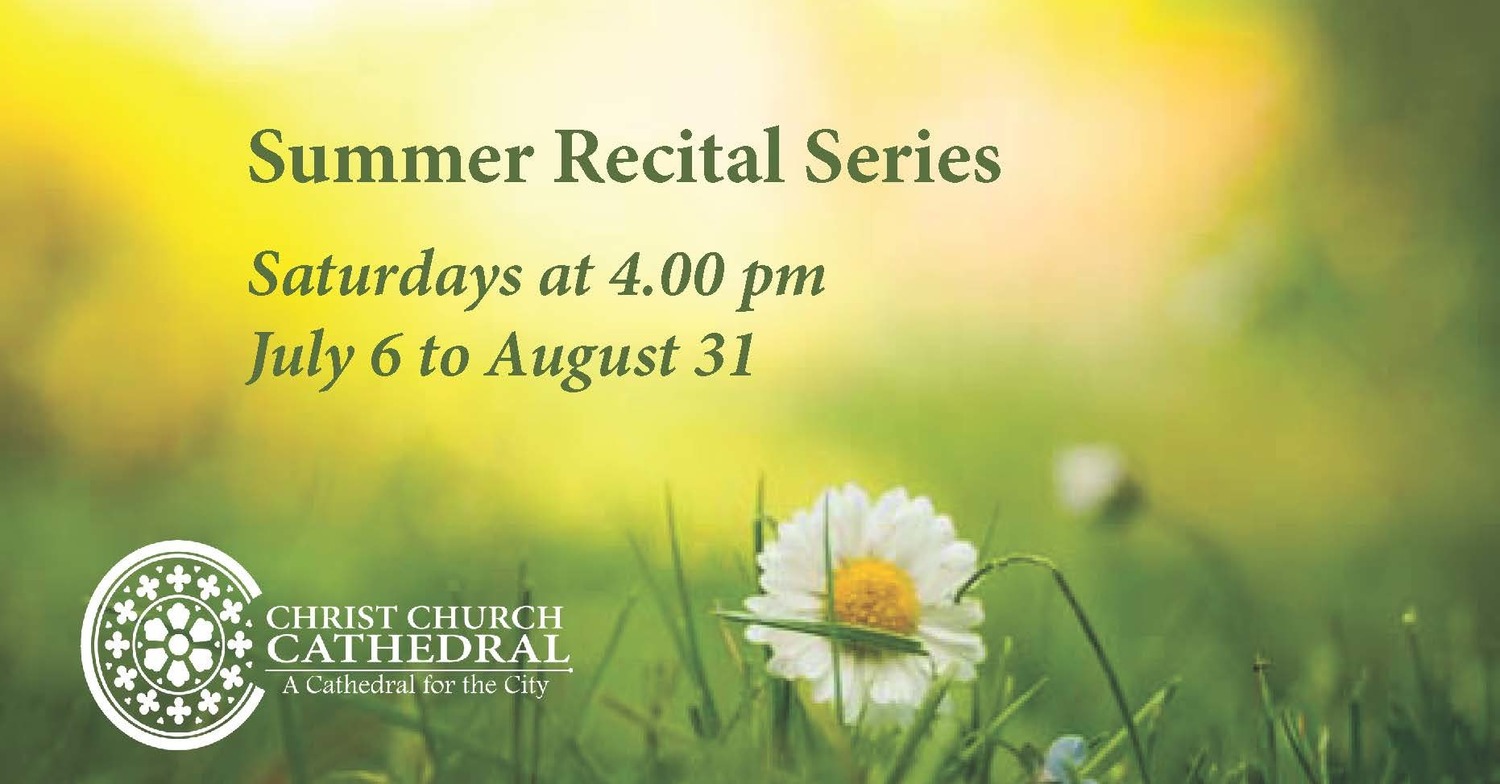 Summer Recital Series Returns
July 6 to August 31
Saturdays at 4.00 pm
Admission by donation

July 6 Brasstastic Since 2013, this Brass Quintet has been delighting audiences around Victoria. They've also made guest appearances with several community ensembles, including the the Greater Victoria Concert Band, and the Victoria Philharmonic Choir.

July 13 Richard Volet, Allison Miller, flutes Richard Volet is joined by colleagues from the Victoria Symphony to perform an eclectic mix, including works by J.S. Bach and
Ingold Dahl.

July 20 David Michaux and friends VS trumpeter David Michaux brings together eight of Victoria's finest musicians for a varied program of some rarely heard gems. This group is always an audience-favourite!

July 27 Paul Stubbings, organ This is Edinburgh-based concert-organist's first visit to Victoria, BC. Join him as he takes CCC's mighty Helmuth Wolff organ through its paces!

Aug 3 Eve Daniell, soprano and Rykie Avenant, piano Canadian-English soprano and series favourite Eve Daniel returns to the series with a program of all-female composers including
Clara Schumann and Jean Coulthard.

Aug. 10 Grohovac-Ibison Duo, classical guitars Victoria native Janet Grohovac and her guitar-playing husband Chad Ibison feature on the Cathedral's recital line-up for the first time. An homage to local roots, the multi-award-winning duo performs exclusively on Blackwell guitars from the Sunshine Coast.

Aug. 17 Keith MacLeod, clarinet, Heather MacLeod, soprano VS Principal Clarinet Keith MacLeod pairs with soprano Heather MacLeod.

Aug. 24 Anjulie Djearam, soprano
Jane Edler-Davis, piano At only 12, this Victoria singer had already performed at Carnegie Hall, claiming the platinum award at the Forte International
Music Competition. Anjulie Djearam is a name to watch! She is joined by Victoria's beloved Jane Edler-Davis on the piano.

Aug. 31 Claire Butler, piano Calgary pianist and graduate of the Royal College of Music (UK) discovered the cathedral's superb piano and favourable acoustics last year when accompanying the Calgary Girls' Choir. She now joins us for a solo recital. Works Beethoven, Gershwin, as well as
Debussy's famous "Clair de Lune."