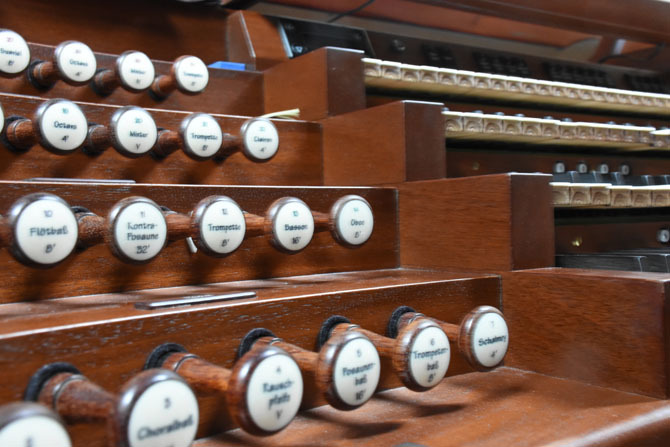 Three concerts, a lecture and a kids' workshop on building a miniature organ are the events planned for ORGtober, a new festival of pipe organ music to be held at Christ Church Cathedral.
The three concerts will thrill fans of organ music, said Christ Church Cathedral Director of Music Donald Hunt. "The three performers are outstanding award winners who will surprise and delight the audience with their very different approaches."
The OrgelkidsCAN organ building workshop will fascinate kids interested in how things work. "It will be so satisfying for kids to build something, see scientific principles at work and then use it to play music," said Hunt. "We are excited about bringing the OrgelkidsCAN kit to the city for the first time." Presented by Christ Church Cathedral and The Royal Canadian College of Organists, the workshop includes a visit to see the Cathedral's full-sized Hellmuth Wolff organ in action. Details on the kids' workshop here
Oct. 5 – Organ recital (7.30 pm) Isabelle Demers, a Montreal born, Grammy Award-winning organist plays music by Bach, Berlioz, and Harry Potter! Tickets $25
Oct. 12 – Lunchtime concert (12.15 pm) by Michael Nicholas, a legendary British organist, conductor and composer, who was organist and master of choristers at Norwich Cathedral and later chief executive of the Royal College of Organists. Admission by donation.
Oct. 24 – Lecture on the art of organ transcription (David Briggs), spaces limited.
Oct. 25 – Concert: Mahler's Symphony #2 with choir and soloist Rebecca Haas (7.30 pm) featuring David Briggs, internationally renowned organist known for his brilliant organ transcriptions and improvisations to silent films. Tickets $25
Oct. 27 OrgelkidsCAN: A hands-on workshop for children aged 8 to 13 exploring the mechanics of a pipe organ. Two sessions: 10am-12 pm and 12.30-2.30 pm $5 per child / $10 per family (children only!) Chapel of the New Jerusalem, Christ Church Cathedral (Quadra at Rockland) Presented by Christ Church Cathedral and The Royal Canadian College of Organists To register for either the morning or afternoon session, please contact the Cathedral Office HERE by Thursday, October 25 at 4 pm.
ABOUT Orgelkids is a pipe organ education and outreach organization based in the Netherlands founded by Lydia Vroegindeweij to give kids a chance to learn about organs by building and playing a miniature organ. In 2012, retired organ builder Wim Janssen, designed and built a working, two-rank, two-octave mechanical-action pipe organ that could be assembled by a group of children. The program has spread to the US and Europe, and now the Royal Canadian College of Organists (RCCO) has brought the kits to Canada, dubbed the OrgelCAN program.