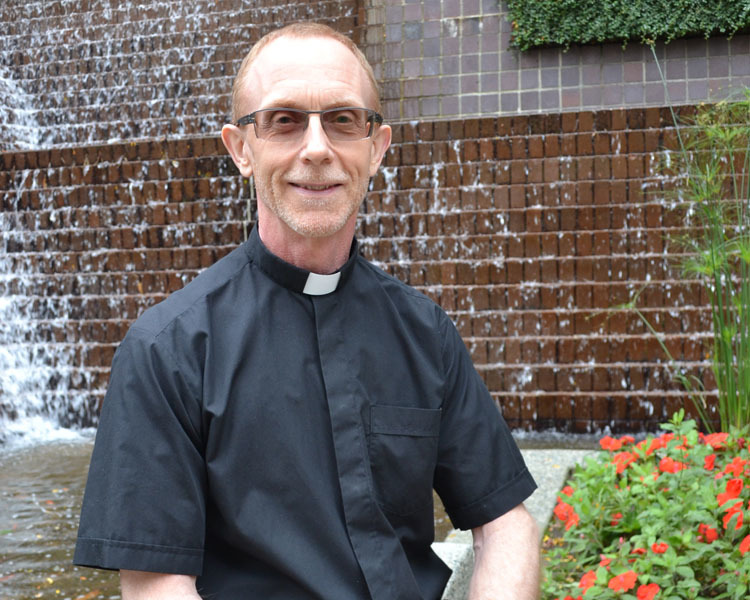 The search is over. The bishop has appointed Ross Bliss as vicar to Christ Church Cathedral, Victoria, effective January 1, 2019. He comes to us from the Diocese of New Westminster where he serves at Christ Church Cathedral as curate.
Bliss comes to the role with a rich and varied background. He earned a bachelor's degree in jazz studies, and he plays the guitar, favouring the gypsy jazz genre reminiscent of legendary guitarist Django Reinhardt. (Hear Ross play)Then he earned a master's degree in library science and worked at the Vancouver Public Library in lending and circulation services. He was ordained as a deacon in the Diocese of Huron in London, Ontario after his third year of divinity school and ordained as a priest in 2017. His 18 months as a curate in Vancouver has been an accelerated learning experience, said Bliss. "There is just more of everything at a cathedral: more baptisms, more weddings, hundreds of eucharists." Bliss is an associate of two monastic orders and passionate about exploring Christian education.
While the ministry may seem like a new direction in his life, Bliss, 60, sees similarities with his past jobs. Libraries – the main branches – are like cathedrals, he says. "I was always a central library kind of guy where there is lots of programming. The cathedral plays a similar role in the life of the diocese. It is a safe and anonymous place for people to come." Playing in many bands over the years has taught him some other lessons about human relations. "Every band is like a little family – with the good and bad – and you have to make it work," he said. "And music is a part of life, certainly church life."
Moving to Victoria was appealing to him as well as joining the Cathedral staff. "I was drawn to the scale of the place. It is still a city but on a more human scale," he said, adding that the Cathedral can be a real meeting of tradition and innovation. "It's a really exciting intersection," he said.
Sometimes your name is your destiny when a name and a title seem perfectly matched, for example, if you are a dentist named Dr. Paine, or a vicar named Rev'd Bliss. And like many people with unusual names, he has a stock story to tell. He cites a famous quote from author Joseph Campbell, who wrote many classic books on comparative mythology: "follow your bliss and the universe will open doors for you where there were only walls."
"When that quote, 'follow your bliss,' was trendy, I don't know how many fridge magnets I got from people," said Bliss. His favourite line is, "if I ever meet Campbell in the afterlife, I'm going to give him back all those fridge magnets." Here is a video hello from Bliss