Please join us for this 6-week series exploring the fascinating origins and development of worship space in the Judeo-Christian tradition. Learn what motivated the changing configurations of worship space, and what distinguishes cathedrals from "big churches." Hear from two retired cathedral deans who have tackled major redevelopments, their reasons for doing so, and the challenges they faced.
According to the grace of God given to me, like a skilled master builder I laid a foundation, and someone else is building on it. Each builder must choose with care how to build on it. For no one can lay any foundation other than the one that has been laid; that foundation is Jesus Christ. 1 Corinthians 3.10-11
Christ Church Cathedral is committed to providing relevant ministry and service in the middle years of the 21st century. Positioning ourselves to achieve this objective requires, amongst other things, a careful review of the kinds of space and facilities that we will need. We want to build faithfully on the foundation that has been laid for us, and responsively to the needs before us.
Dates Tuesdays, beginning January 11 (till February 15)
Time 4.00-5.30 p.m.
Where Zoom Copy this link into your calendar:
https://bc-anglican-ca.zoom.us/j/86802639170?pwd=ZXdEUjVLaDZwUmNmVEF6OEZIb2cvdz09
Missed a session? Sessions will be recorded, so if you miss one please email admin@christchurchcathedral.bc.ca for a link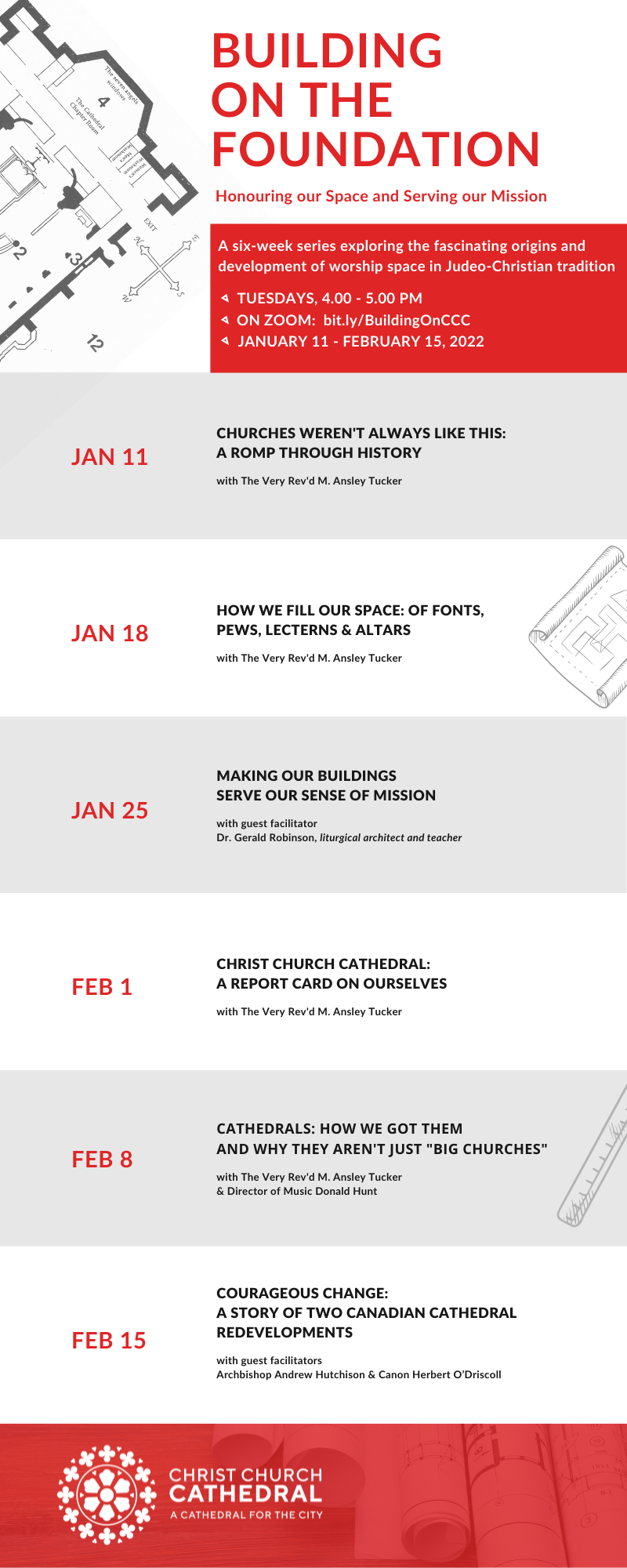 <![CDATA[RmxXdUE2YmdTV1o1R2JwMFFiUitydy9UeVdTYXFDQXk2R3VNRzhXM3FTWWluakh0L3FXZ0dKWlNvRFR1Y2NBU0w2bGxBR2JPVWFjblZicTZha3BGVGgxdFJxWTREdWo4dEljN2R3MDdrMHhDSjNOcTl6TXF1aHZtcFVhWUpvMGFQbFRuU21DZlZ3KzllRHBaL2RSSHNlWlE0NnZUaS8xOWhvQ3NzRDVMOUd3elBWcWJlOVkvQnFFMittUzl2cnRhLS16MlpjcGxZSjFONU13cHd3N2NwNnpBPT0=--bab4eb00e11eb5f8d1acdb2677125a47047d86b0]]>