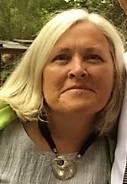 The Dean and Wardens are pleased to announce that Susan Down will be joining the Cathedral team as our permanent Communications Coordinator. Ms Down wrote about topics from opera to sailing for the Times Colonist as well as freelancing for newspapers and magazines during her career in the media.

She grew up in Montreal and went west to attend Carleton University. After graduating, she continued west again and moved to Vancouver Island, where she and husband Bob raised two sons. After earning a degree from Royal Roads, she headed to a new job in Toronto, happy to see the last of knee-deep slush when she returned to the Island in 2011.

Since then, she has run a community news website, consulted in media relations and written several non-fiction children's books. A longtime Victoria resident, she now lives in Cowichan Bay. She is a strong supporter of the arts, having served on museum, theatre and arts council boards.
Ms Down begins on March 19, and will be working approximately 3 days per week.