The Indian Residential School Survivors Society 24-hour crisis line is available at 1-866-925-4419.
Join us in our diocesan-wide support of National Day for Truth & Reconciliation/Orange Shirt Day and help raise awareness of the need for First Nations, local governments, schools and communities to come together in the spirit of reconciliation and hope.
September 30 is a federal holiday, recognizing the dark history of Canada's residential school system; a system the Anglican Church of Canada, and our diocese, wilfully participated in.
Mindful of not wanting to run-up against the many community events already planned on this day, the cathedral is not offering specific programming on September 30. However, our staff will take time out of their day to participate in some of the community-organized events in the city. We would like to invite the Cathedral community to join us at these events and to wear your orange shirt in support of survivors. If you'd like to join us in walking down to the 12.00pm Centennial Square event on September 30, meet us at the Quadra Street entrance of the cathedral at 11.30am.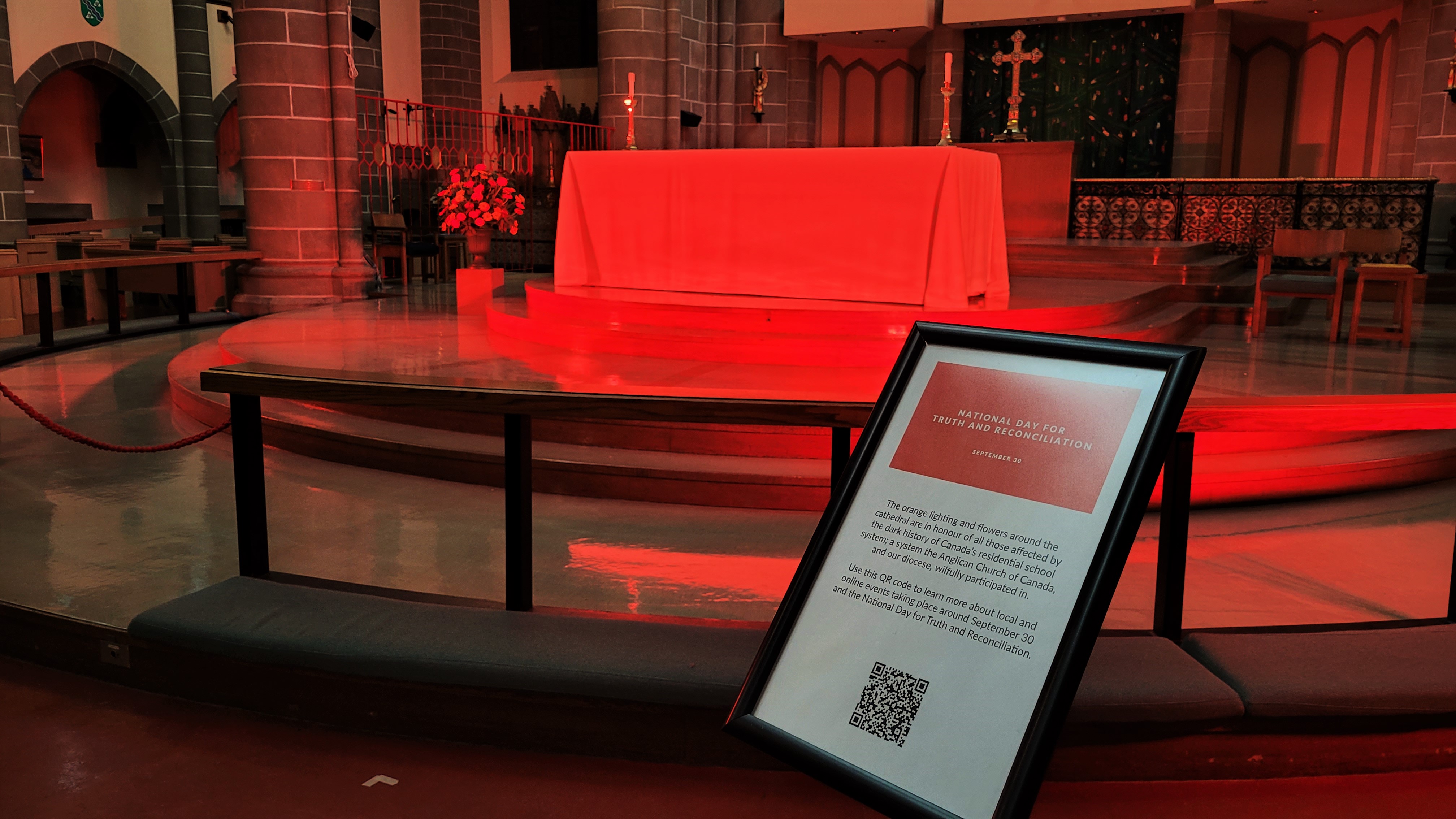 Visitors to the cathedral throughout this next week will be greeted by a display of orange flowers, provided by the Chancel Guild, and a simple lighting installation that will bathe the chancel and altar in orange light. We are also encouraging our stewards and greeters to wear their orange shirts during their shifts this week.
Additionally, have a look at this week's Cathedral Check-in video which is a helpful explainer on some of the significance around the National Day for Truth and Reconciliation (Orange Shirt Day) featuring Maureen Applewhaite and the Rev'd Ross Bliss.
Resources
Local and online events
Xe xe Smun eem-Victoria Orange Shirt Day: Every Child Matters Ceremony
The Victoria community is invited to wear orange and attend. Thursday, September 30 from noon to 2.30 pm in Centennial Square.
More info
University of Victoria: Three days of programming for truth and reconciliation
September 27 & 28 Film screenings at Cinecenta and the First Peoples House
September 29 Full day of commemoration, drumming, and dialogue which will also be live streamed on the UVic YouTube channel
More info
Marking the National Day for Truth and Reconciliation (online)
The Government of Canada is hosting an online event called Marking the National Day for Truth and Reconciliation, which will feature speakers who served on the TRC, Indigenous elders, academics, and ministers who work in Indigenous services, diversity and inclusion. You need to pre-register for the event, and in respect of the lived experiences to be shared at the event, a video of the broadcast will not be made available after the live event.
More info
National Centre for Truth and Reconciliation's Truth and Reconciliation Week (online)
From the National Centre for Truth and Reconciliation, a week of online programming for the general public (registration required)
More info
A Pondering Heart: Workshop led by Fr. Martin Brokenleg (St. Barnabas, Victoria, September 26 at 4.00 pm)
Fr. Martin's workshop begins the exploration of principles and experiences raised by the news of the unmarked graves. To register contact Heidi Teel at communitylife@stbarnabaschurch.ca
Pacific Peoples Partnership: One Wave Gathering 2021
Featuring films made by Indigenous youth from Canada and the South Pacific who participated in our Stories of Resilience project. For more information and a full list of events visit pacificpeoplespartnership.org/one-wave-gathering-2021
Every Child Matters: A Service of of Reflection and Prayer (Anglican Church of Canada)
For September 30, the National Day for Truth and Reconciliation—Orange Shirt Day—the Anglican Church of Canada has produced Every Child Matters: Grace Will Lead Them Home, a video service of reflection and prayer designed by a group of Indigenous Anglican Elders; including Archbishop Mark MacDonald, Bishop Sidney Black, the Rev Canon Laverne Jacobs, and Canon Donna G'yogwenace Bomberry.
Watch Online
Additional Resources
Orange Shirt Day
Learn more about the origins and history of Orange Shirt Day
victoriaorangeshirtday.com/

Additional Event Listings and Learning Resources
museum.bc.ca/national-day-for-truth-and-reconciliation

Sacred Journey: A Penetential Walk Toward Reconciliation
For the period of March 6-27, 2016 during the liturgical church season of Lent, Bishop Logan McMenamie walked 480 kilometres from Alert Bay to Victoria seeking permission from First Nations representatives to enter and stay on the traditional lands. This was a penitential journey undertaken as a personal act of repentance by the bishop and on behalf of all Anglicans in this diocese. Read more about it and watch the 2017 documentary "One Step" on the Diocesan website.
https://bc.anglican.ca/diocesan-ministries/reconciliation-beyond/pages/sacred-journey


<![CDATA[ZzlFOTQ0YTlGUFNMNkVmNWRDZGxtdzYwdXgrd3MvQ1JONnh1UkhZbGM2MFBubjl4cnphZ2RLcVNuTUtOL2JiOFRoNDZGTnRLK1pvZTVlc1BXMHJoaVdWWFg4QnBzekQxZ2lJZDQ0b3Awd1VsbS9kNnNIdU9CRytvRVFLMkh5YWFnbkZjL204Ky9wS1JsMHNRVkVOcDN4cy9XcUQwSG9FcElSSEt3R0g0N2tVPS0tN08wL0xvU2lxdXdXam1nNXV4ZnFHZz09--247e395d164fa419bc5784df9018744285e06a1a]]>