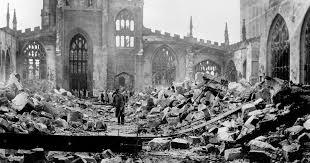 As Remembrance Day draws near, we are sharing special memories of Coventry Cathedral from long-time parishioner Alan Batten.
I have followed with interest the application and acceptance of our Cathedral into the Cross of Nails Community (based at Coventry Cathedral). My first wife, Lois, whose ashes lie in our crypt, had a close connection with Coventry. Lois was born and grew up in Bedworth, a small town within sight of Coventry. She remembered the night of the bombing (Nov. 14, 1940), being in her early teens at the time. Her father woke her up to see the flames from the window of their house. Her father, A.E. Dewis, was a master baker and church warden in Bedworth, but after World War II, he became heavily involved in the reconstruction of Coventry Cathedral, becoming a steward showing people around the ruins, and investing both time and money on the reconstruction.
Lois remembered going to a meeting at which Basil Spence, the architect, described his vision for the new Cathedral. After both my parents-in-law died, in the mid 1960s, Lois arranged for a memorial to them by contributing to the construction of Dewis Lodge, for visitors to the Cathedral. I understand the Lodge no longer exists, but Lois's parents are still commemorated by name in the new Cathedral. Her father tried unsuccessfully to convince our Cathedral to join the Cross of Nails Community back then.
I have a lesser connection with Coventry. In 1952, there was a pageant in the ruined Cathedral to mark the 400th anniversary of the 1552 Book of Common Prayer. The producers wanted a priest to narrate some sections of it, but they did not want one from their own diocese, whose voice would be recognizable to many. By some means that I do not now remember, they came to my father, who was at that time Vicar of Tamworth in the neighbouring Lichfield Diocese. I remember going to Coventry with my parents and sister to see the pageant.
Lois and I visited the new Coventry Cathedral at least twice. The first time was while it was still under construction. The second was in 1988. We were staying in Bedworth and went to the Cathedral for the Sunday that was the 50th anniversary of Kristallnacht. The preacher was the Chief Rabbi of the U.K.
Coincidentally, Erica and I were in Dresden recently and visited the Frauenkirche, completely destroyed in the infamous raid and not reconstructed until after German reunification. Right after the end of the war, a close relationship grew up between the two cities that had suffered destructive raids, and the Frauenkirche is also in the Cross of Nails Community. I think this link was the basis for Coventry adopting reconciliation as its main theme.
Lois certainly would have been delighted that our Christ Church Cathedral now has a link with that of her home diocese, which her father had hoped to initiate half a century ago.