We're delighted to unveil plans for a summer full of music at the cathedral. For all of these concerts, an in-person audience will be, once again, permitted to enter the cathedral's vast arched space, renowned for its presentation of world-class music.
The cathedral's long-standing Summer Recital Series (Saturdays in July and August at 4pm) makes up the bulk of the programming. This year's line-up includes a broad cross-section from Victoria's vibrant classical music scene, as well as an appearance from the jazz realm. Fifteen-year-old soprano Anjulie Djearam returns to open the series this year, which also includes performances by one of Canada's top jazz saxophonists, Ryan Oliver, Victoria Symphony Musicians, Cathedral Choral Scholars, and specialists in 12-century wind instruments. Though capacity is limited and pre-booking is required, these concerts will be presented free of charge.
The cathedral is also partnering with the Victoria Summer Music Festival, EMV: Pacific Baroque Series, and the Emily Carr String Quartet for several additional concerts.
Earlier this year, the Emily Carr String Quartet began a cycle of Beethoven's complete string quartets in nine live-streamed concerts. From July 2, this series will also be open to an in-person audience. On the program: Quartet no. 5 in A major (Op. 18, no. 5) and Quartet no. 12 in Eb major (Op. 127).

The Victoria Summer Music Festival, which has delighted audiences with chamber music since 1996, will bring its programming to the cathedral this year. Four concerts in August will feature string and piano sonatas, trios, and quartets by composers such as Mozart and Haydn, as well as English composer and suffragette, Ethyl Smyth.
After a year-long hiatus due to the pandemic, the Pacific Baroque Series returns to Christ Church Cathedral. Presented in partnership with Early Music Vancouver (who also presented last summer's very successful Music for the Pause online series), two concerts on August 7th by noted early music specialists feature Bach's Sixth Suite for solo cello as well as program of charming 17th-century French music for the viola da gamba.
Donald Hunt, the cathedral's Director of Music, is excited about the summer music line-up: "It's going to be a busy summer for the cathedral as we play host to musicians and audiences in a safe manner, but we're delighted to return this beautiful sacred space over to the public, for whom it exists to serve."
All concerts (except EMV: Pacific Baroque Series) will also be filmed using the cathedral's new 8-camera audiovisual system and available to view online.
Tickets, Registration & Program information

Summer Recital Series (Saturdays at 4pm)
In person: Tickets are "pay what you can" donation via Eventbrite. Registration opens on Monday morning for the concert that weekend. If maximum capacity is reached in pre-registration period, an in-person wait list will be taken on the door starting at 3pm on concert day.
Anjulie Djearam, soprano – Saturday, July 3, 4.00pm
Celebrate the long weekend and the return of this much-loved recital series with this fifteen-year-old soprano, who made her Carnegie Hall debut at the age of eleven. Anjulie is joined by pianist Jane Edler-Davis, a familiar and well-respected figure in our local music scene.
Tickets: RESERVE HERE
Carnaval! with Carey Wang, piano – Saturday, July 10, 4.00pm
Carey Wang was a featured soloist in Symphony Splash, 2019, when he was just 14 years old! He makes his Cathedral debut with a recital featuring Robert Schumann's Carnaval and Maurice Ravel's evocative and demanding Le Tombeau de Couperin.
Tickets: RESERVE HERE
The Ryan Oliver Quartet meets The Emily Carr String Quartet – Saturday, July 17, 4.00pm
Jazz meets classical in this quartet double bill, featuring Mark Crawford's string arrangements of tenor saxophonist Ryan Oliver's original jazz compositions. The program also includes Harold Arlen's arrangement of Somewhere over the Rainbow.
Tickets: RESERVE HERE
Yoon and Manning play Bach for solo strings – Saturday, July 24, 4.00pm
Primarily an organist/harpsichordist, J.S. Bach had an uncanny ability to transform solo strings into polyphonic instruments. In this time of social distancing, two Victoria Symphony musicians (Brian Yoon, cello and Philip Manning, violin) lean in with Bach's Cello Suite in D major and Partita in D minor.
Tickets: RESERVE HERE
Christ Church Cathedral presents A Choral Scholars' Variety Special – Saturday, July 31, 4.00pm
You've seen them in robes, you've seen them singing Gregorian Chant. Now sit back, relax, and let yourself be entertained by the vocal and keyboard stylings of our resident Choral Scholars and Organ Scholar, robes off, hair down. Expect to hear at least five different up-and-coming singers, two pianists, and one budding organist, as well as one scholar who specializes in playing and singing at the same time!
Tickets: RESERVE HERE
Mozart's Oboe Quartet and Brahms's Clarinet Quintet – Saturday, August 7, 4.00pm
Victoria Symphony Clarinettist Keith MacLeod and Oboist Russell Bajer are joined by four of the Island's finest string players (Philip Manning, Simon MacDonald, Jennifer MacLeod, and Amy Laing) for a performance of Mozart's sprightly Oboe Quartet and Brahms's profound Clarinet Quintet.
Tickets: RESERVE HERE
J.S. Bach's Cantata 51 – Saturday, August 14, 4.00pm
Baroque soprano Nancy Washeim is joined by organist Robert Jan Dukarm and piccolo trumpeter David Barss for a performance of Bach's Jauchzet Gott in allen Landen, BWV 51 alongside favourites such as Handel's Eternal Source.
Tickets: RESERVE HERE
A Great Noyse – Saturday, August 21, 4.00pm
"A Great Noyse," Victoria's Renaissance wind band, presents a program of music for shawm, bagpipes, dulcian, and sackbut. Featuring some of the earliest known publications of instrumental music from Pierre d'Attaignant, Tielman Susato, and some gems from composers who are only known to us as "anonymous."
Tickets: RESERVE HERE
Krivchenia plays Liszt and Schumann – Saturday, August 28, 4.00pm
Grisha Krivchenia is a composer and pianist who currently divides his time between Santa Fe and the Seattle area, but he will soon be settling on this side of the Salish Sea. He brings us a program featuring Liszt's Funérailles and Schumann's Sonata in A major.
Tickets: RESERVE HERE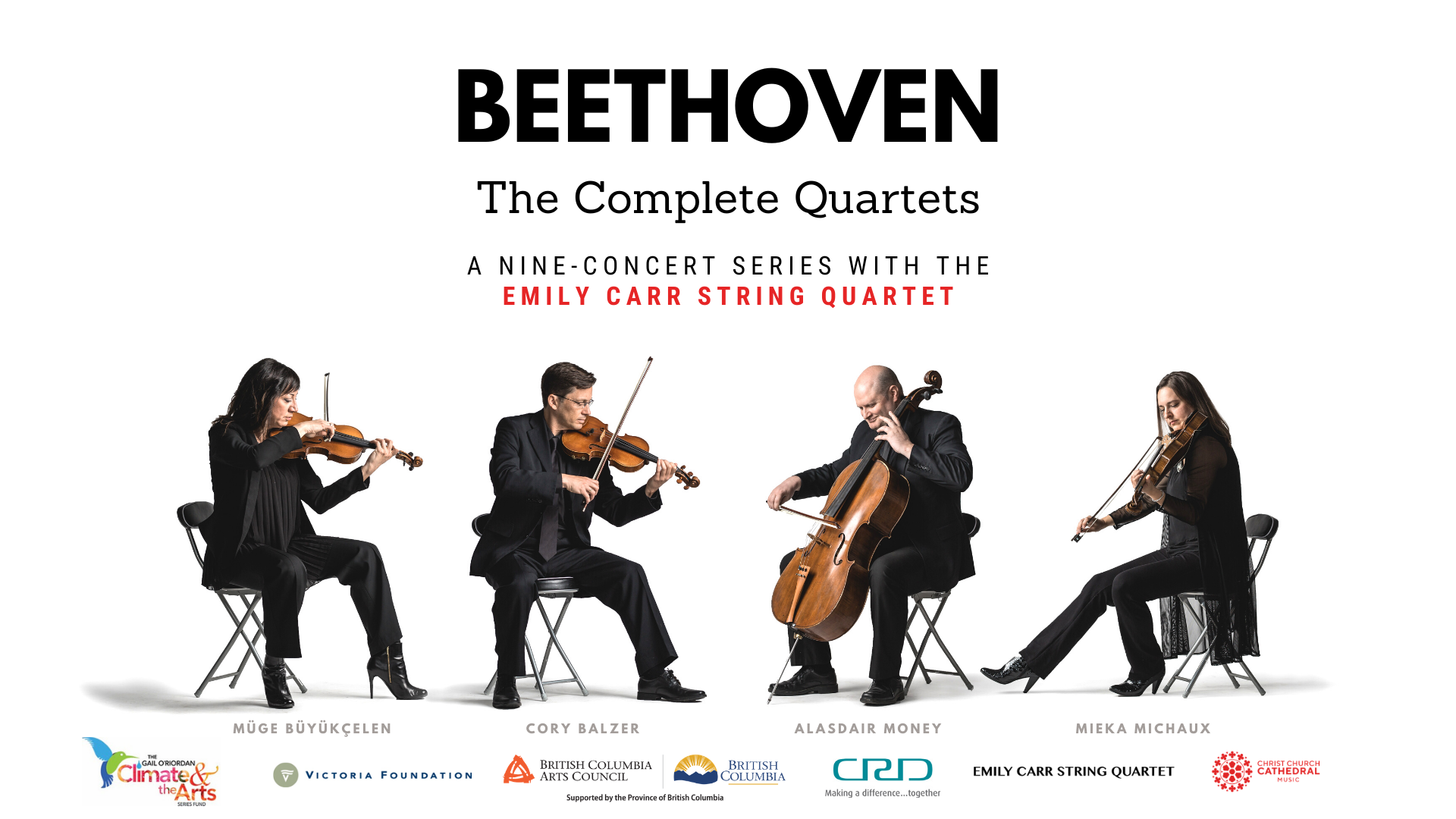 Emily Carr String Quartet Beethoven Quartets (July 2, July 30)
Supported by the Gail O'Riordan Climate and Arts Legacy Series, the Victoria Foundation, BC Arts' Council, and the Capital Regional District.
Beethoven: The Complete Quartets (Concert 5) – Friday, July 2, 4.30pm & 7.00pm
Quartet no. 5 in A major (Op. 18, no. 5)
Quartet no. 12 in Eb major (Op. 127)
Tickets:
4.30pm: PURCHASE HERE
7.00pm: PURCHASE HERE
Beethoven: The Complete Quartets (Concert 6) – Friday, July 30, 4:30pm & 7.00pm
Quartet no. 4 in C minor (Op. 18, no. 4)
Quartet no. 9 in C major (Op. 59, no. 3)
4.30pm: PURCHASE HERE
7.00pm: PURCHASE HERE

EMV: Pacific Baroque Series
Guided by Voices – August 7, 11.00am
Elinor Frey, 5-string cello
Today the five-string cello is treated as an exotic and rarely-played cousin of the standard cello. However, in the seventeenth and eighteenth centuries it was simply one of the many instruments used in the family of bass violins and was particularly important for virtuosic sonatas and solos. The program centres around the five-string cello's most enduring work, Bach's Sixth Solo Suite (BWV 1012). Each movement reveals the instrument's incredible versatility and remarkable colors. Elinor Frey explores these qualities further through two newer works, "Guided By Voices" by Scott Godin (based on Hildegard von Bingen's "O Vis Aeternitatis") and "With concord of sweet sounds" by Isaiah Ceccarelli.
Tickets: PURCHASE HERE
Pardessus in Paradise – August 7, 7.30pm
Works by Barrière, Caix D'Herlevois, Boismortier and Dollé
Mélisande Corriveau, viola da gamba & Eric Milnes, keyboard
The works selected present a vibrant array of French musical styles developed during the eighteenth century before the French Revolution. The origin and development of the pardessus de viole - known in France as "the woman's violin"- coincided with the increasing prominence of the violin in French instrumental fashion. The crowning glory of the viola da gamba family, the pardessus – the smallest of the viola da gamba family of instruments - facilitated the instrument's rise in popularity in France. Most of the works which will be performed were selected from the microfilm collections of the Bibliothèque Nationale de France. Few had been recorded until Mélisande's recent recording. The works are charming, playful, luminous and exquisitely elegant.
Tickets: PURCHASE HERE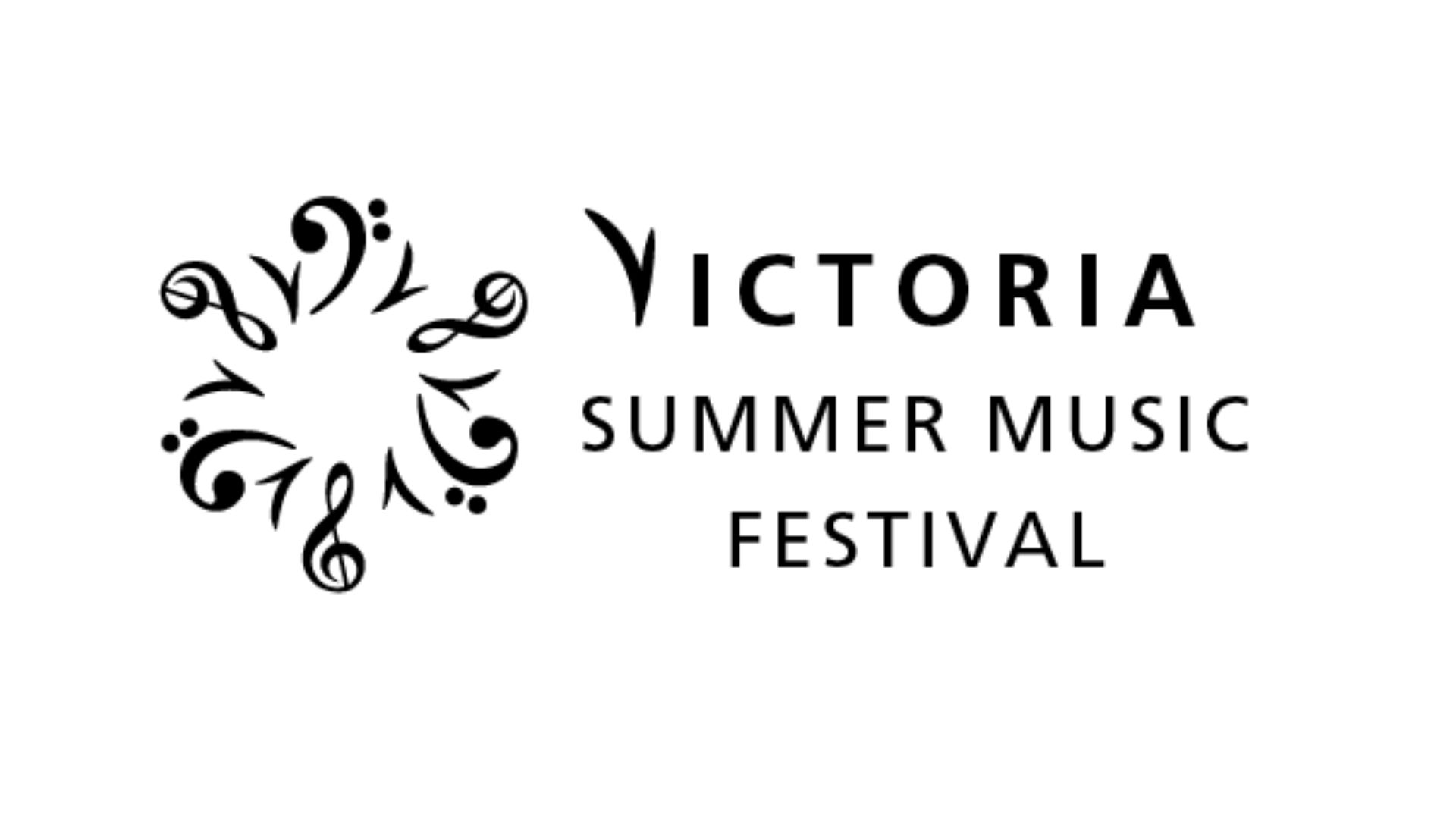 Victoria Summer Music Festival (August 11, 12, 18, 19)
Mozart and Smyth with Jane Coop and Friends -- Wednesday, August 11, times TBA
Ethyl Smyth: Violin Sonata in A minor, Op. 7
Wolfgang Amadeus Mozart: Piano Quartet No. 2 in E flat major, K. 493
Jane Coop, piano; David Stewart, violin; Yarif Aloni, viola; Pamela Highbaugh Aloni, cello
Tickets: On sale early July

Program TBA – Thursday, August 12, times TBA
Tickets: On sale early July

Haydn and Brahms with Yoon and Rowe – Wednesday, August 18, times TBA
Franz Josef Haydn: Piano Trio No. 41 in E flat Minor 'Jacob's Dream' Hob XV/31
Johannes Brahms: Piano Trio in C Minor, Op. 101
Joan Blackman, violin; Brian Yoon, cello; Arthur Rowe, piano
Tickets: On sale early July

Schubert's Piano Trio in E flat major – Thursday, August 19, times TBA
Franz Schubert: Piano Trio in E flat Major, Op. 100
Joan Blackman, violin; Brian Yoon, cello; Arthur Rowe, piano
Tickets: On sale early July

Music At Christ Church Cathedral

Concerts

<![CDATA[S0Q0S0tGS0RpVzRXdS9EVVBDbjV0Tzl4Yk8xeUVwMGo5WlQ1bnZEaFNmKytpSEpoWTZaZHM4SGZyS1BKK2x4S1VmaFAxQWs3cEVlVGR3blI4VWdRTnFRTWxNa1RwQkZIaDIwOUNLWjlnN2t3V3JCYTFZOVRReklVa3F1TFNGNWh2T0kvUVFCYkMrVEV2OVVCRHJrZHNLMnVjeU9VbjZRWXpwK3F5YzdpbmV6Wjl4MDZxVzJQSHp5elpoWHBZU2NXSFEyM1BxWDBJYllKK0F0dnBhMGxTZz09LS1xb0FjZE9WMFIzU01XVDlsMXM2UHN3PT0=--cd0c3f6e6c522e69f5136c79672e5648f4d1f99a]]>