Visual Arts Committee
Visual Arts Committee
Visual Arts Committee
Visual Arts Committee
Christ Church Cathedral has recently established a Visual Arts committee, whose role is to elevate the visual arts as one means of inviting people into the depth of Christian spirituality. The group comprises sculptors, painters, fabric artists, appraisers, curators, doers, and art historians.
Among the tasks this group will undertake are the following: mounting exhibitions of art at the Cathedral by request or invitation; commissioning art for specific purposes; consulting on the accession of gifts of art to the Cathedral; raising funds; providing animation and education related to projects; and cooperating in interdisciplinary projects, especially with music.
First up is what we hope will become a continuing fund raising initiative, provisionally called "Art Treasures Sale and Auction." We are looking for good art that needs a new home. The plan is to start now to collect items which we will display for sale or auction sometime in October. We want this project to be Victoria-wide – not limited to the parish, let alone to the Church: so please pass the word, and think of us during spring-cleaning, downsizing and moving season! For more information, please contact the Cathedral office at 250.383.2714 or [email protected]
Upcoming Events
---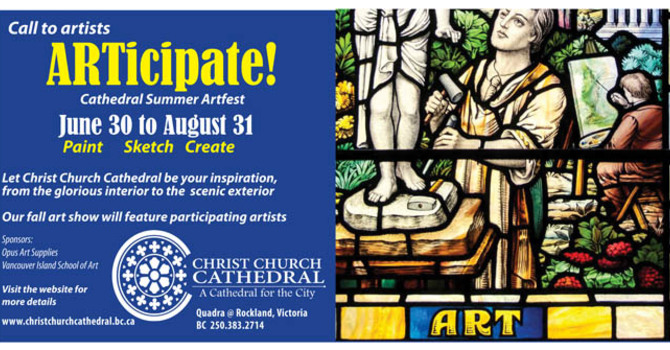 Come and ARTicipate!
Christ Church Cathedral
June 30 - August 31, 2018
8:30AM