This event has already occurred
Save to your Calendar
Kick off the season by dropping in for this day-long celebration of the patron saint of music. We'll have performances and creations from an array of talented Victoria musicians and makers, guest host Janet Dirks (former CTV national correspondent), and a chance to meet St Nicholas himself! Either stay until the bitter end or leave in time to catch the Santa Claus Parade on Douglas Street.
Cathedral: Admission by donation
Market: Free entry
Performance Schedule
9.00am The Cathedral Bell Ringers (climb the stairs of the bell tower to sneak a peak at the ringers in action!
9.30am The Students of the Victoria Organ Studio
10.15am UVic Brass Studio
10.30am Pianists Simi Lutrell & Easton Roy (students of May Ling Kwok)
11.00am The Klezbians
11.30am Emily Whitelaw, Singer-songwriter
12.00pm The Odd Hack Band
12.45pm Some Favourite Jazz Standards with the Choral Scholars
1.00pm The Victoria Accordion Club Band
1.30pm The Choral Scholars' Variety Show!
2.00pm Autumn Brass
2.30pm Stephanie Greaves, Vocalist
3.00pm Siren Seekers: Songs from the High Seas
3.30pm Cookeilidh
4.00pm Break
5.00pm Choral Evensong with the Young Choristers, Cathedral Choir, and Alumni!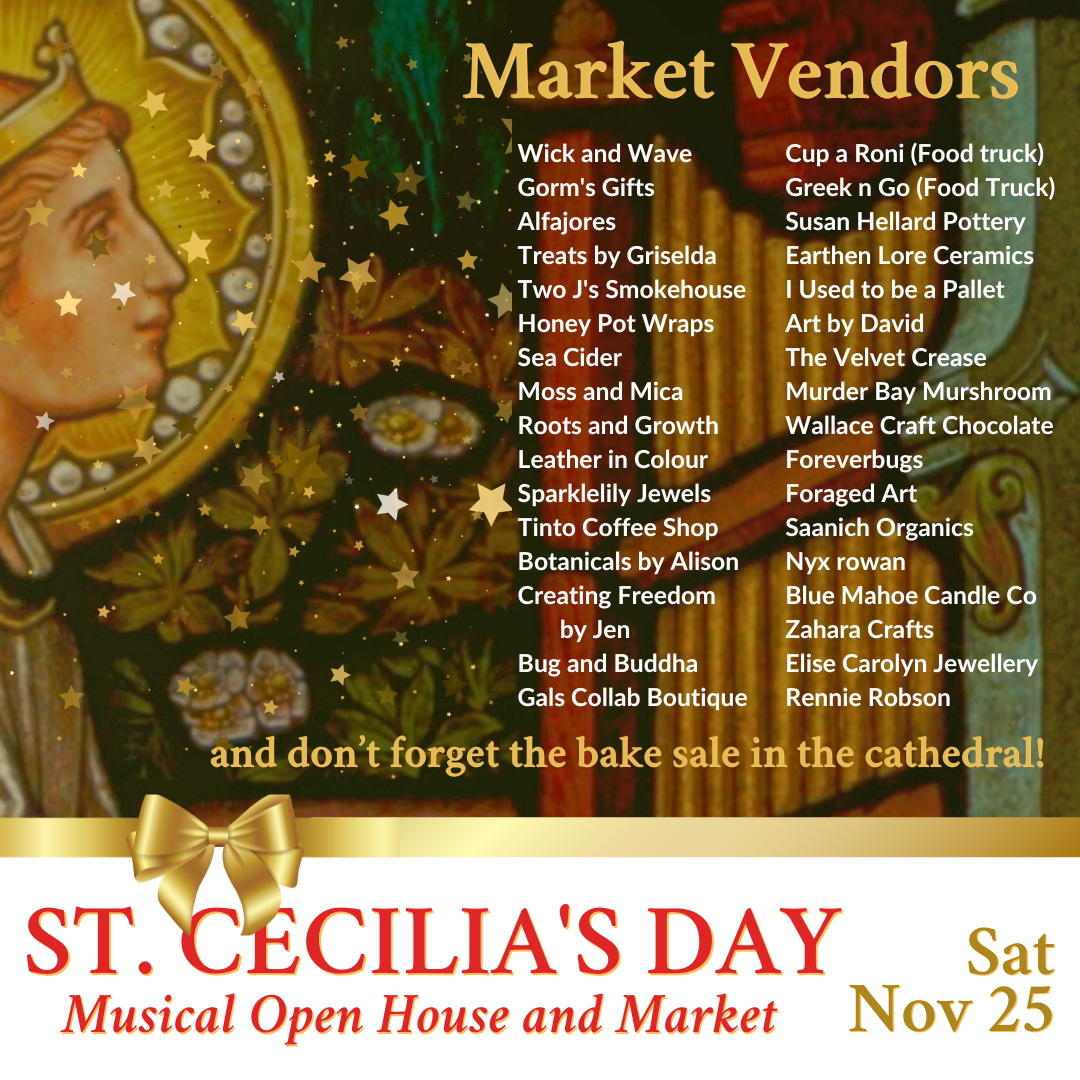 Music At Christ Church Cathedral

Concerts

<![CDATA[RnQzTUhHenVoZU1CRjhzZ2E1UlpPVGZTUmZxRlB0Z1dRZTRMaDJBbzgrY3J4NXEyQzljNGNKQ1ovMTh3Y0dra09KZ2lkV3RlalJtckI3VjROcWFVSWs4WFFlNFZES1V2NHBKMS9qb2g3TklYT2lZdXI2K2Z6bmxVbzVidXV5cng4OVBLcEI1UDVVUlRQMSszaEQzMTVZOWZML3NrMWhydDRTdHo1RVE4VjljPS0tVG9VSHBCUFJOUjU1azNQdVdEY04yQT09--f7dec327e90a316a01d18595d1e05a008839ab31]]>