Musical Open House for St Cecilia's Day
Musical Open House for St Cecilia's Day
Saturday, November 18, 2017

Important: This event has already occurred.

9:00AM - 5:30PM
Nave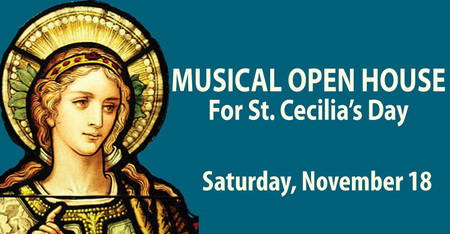 To celebrate St. Cecilia's Day, the Cathedral invites everyone to a Musical Open House, scheduled for the same day as our annual Christmas Bazaar, so that those attending may go back and forth between the two venues. The full programme of events is as follows:
9.00 a.m. - 9.30 a.m: Climb the 71 steps to watch the Cathedral Changeringers (Bellringers) as they introduce the day's celebration of St Cecilia with a ring of either 'Grandsire', 'Plain Bob', or 'Stedman'.

9.30 a.m. - 10.00 a.m: Heidi Worrall (trombone) and Claire Dresselhuis (cello) perform "Les Folies d'Espagne", by Marin Marais, and other works.

10.00 a.m. - 10.10 a.m: Linda Donn (viola) and Sandra Fletcher (piano) perform "Rapsodie from Suite Hebraique for Viola" by Ernest Bloch.
10.10 a.m. - 10.30 a.m: Robert Dukarm (organ)

10.30 a.m. - 11.00 a.m: Christine Purvis (organ), President, Victoria Centre, Royal Canadian College of Organists. View programme.

11.00 a.m. - 11.30 a.m: St Christopher Singers - Renaissance motets (the artists scheduled for this performance are indisposed and unable to perform).

11.30 a.m. - 12.00 noon: Sombremesa Saxophone Quartet. A program which will include excerpts from Glazunov's Saxophone Quartet, Op. 109. (Michelle Melnicky- soprano saxophone; Matthew Fichter: alto saxophone; Todd Morgan: tenor saxophone; Karsten Brewka: baritone saxophone).

12.00 noon - 12.30 p.m: Zachary Windus (organ), Music Director, St Peter & St Paul's Church, Esquimalt. Program will include four different settings of Luther's Chorale "Ein Feste Burg", including a world premiere of one composed by himself, in recognition of the 500th anniversary of the Reformation. View programme.

12.30 p.m. - 1.00 p.m: Victoria Children's Choir. An opportunity to listen to this renowned choir performing from their latest repertoire.

1.00 p.m. - 2.00 p.m: Irina Kim (soprano), Ron Sera (accordion) & the Victoria Accordion Club Band. An hour beginning with Irina and Ron performing songs: "The Lonely Accordion". "La Vie en Rose" and "O Sole Mio" followed by the Band with more music to lift your spirits. Band bio.

2.00 p.m. - 3.00 p.m: Performances by piano students from the studio of Ingrid Henderson at the Victoria Conservatory of Music, including the two youngest Symphony Splash soloists, Felipe Jiang (2017) and Erik Lin (2014), who received great reviews for their very mature performances. View programme.

3.00 p.m. - 3.30 p.m: Kyron Basu (baritone), Csinszka Rédai (piano). A performance of J. S. Bach's cantata 82 "Ich habe genug". Kyron's bio.

3.30 p.m. - 4.30 p.m: New Page Country Dance Orchestra. Join members of The New Page Country Dance Orchestra as they swap fiddle tunes, stories and honour the music of Dan Page. Rosemary Lach (caller) and dancers will perform contradances.

4.30 p.m. - 5.30 p.m: Choral Evensong sung by the St Christopher Singers. The musical programme is as follows: Introit: Thomas Tallis "God grant with grace" - Responses: Thomas Morley - Canticles: Orlando Gibbons "The Short Service" - Lord's Prayer: Thomas Morley - Anthem: Adrian Batten "O sing joyfully".
Music Upcoming Concerts
Return to Events
---