Reconciliation Bible Study
Reconciliation Bible Study
Monday, June 26, 2017

Important: This event has already occurred.

7:00PM - 8:15PM
Chapter Room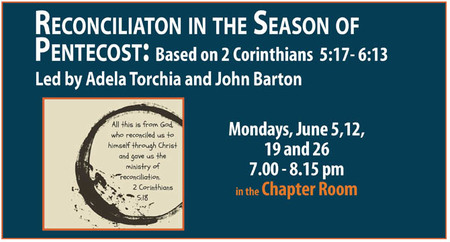 Led by The Rev'd Dr. Adela Torchia and the Rev'd Dr. John Barton this four week study is based on 2 Corinthians 5:17 - 6:13.
The resources for this study are based in part on a seires of Bible Studies developed in Germany to commemorate the 500th anniversary of the Reformation, supplemented by material incorporating relfections on the qualities of life of the servasnt of God of which the Holy Spirit is the source.
To register for the study, please contact the office at 250.383.2714 or [email protected]
Available Files to Download
To download, right-click the file and select "Save link as".
Ministry Adult Faith Formation
Return to Events
---