Thursday, December 20, 2018
7:30 - 9:30 pm
Christ Church Cathedral
This event has already occurred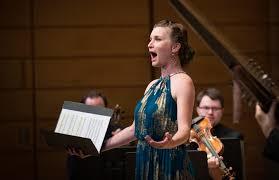 The Pacific Baroque Series (PBS) and Christ Church Cathedral present A Monteverdi Christmas Vespers, featuring eight internationally renowned soloists, string band, cornetti and sackbuts, theorbos, multiple keyboards and the combined choirs of Christ Church Cathedral, there will be over 50 musicians involved.
For this festive concert, guest Music Director David Fallis has selected works from Claudio Monteverdi's 1641 collection of sacred music, Selva Morale e Spirituale alongside works by two composers who were his direct contemporaries: Alessandro Grando and Tarquinio Merula.
"Monteverdi's Vespers of 1610 are so famous that sometimes we forget that he wrote a tremendous amount of other gorgeous sacred music," says Fallis. "For this Monteverdi Christmas Vespers we have collected beautiful psalms, motets and hymns for the celebration of Christmas. They demonstrate the same sense of style that can be found in his Vespers of 1610 – wonderful contrasts between large forces and intimate solos, beautifully varied instrumental colours, and always Monteverdi's perfect sense of the dramatic. This is joyous, celebratory music that people will find extremely inspiring."
With violins, cornetti, sackbuts, theorbos, keyboards and voices, this Christmas presentation recreates the lavish celebration of Christmas Vespers from the Church of San Marco in 17th-century Venice, with music by the incomparable Claudio Monteverdi! Featuring works from his 1641 collection of sacred music, the concert will resound with the glorious sounds of a Christmas celebration you won't soon forget. Gloria in excelsis!
David Fallis is one of Canada's most respected conductors specializing in music of the Renaissance, Baroque and Classical periods. He was last in Victoria in 2016 leading a sold-out performance of a Christmas Vespers By Michael Praetorius. For this year's unique event he has once again gathered together a team of North America's finest professional singers and instrumentalists specializing in early Baroque period performance practice. David is currently the principal guest music director of Toronto's Opera Atelier and interim director of the Toronto Mendelssohn Choir.
Soloists: Arwen Myers, Danielle Sampson, Vicki St. Pierre, Colin Balzer, Kevin Skelton, Nicholas Burns, Paul Grindlay, Martin Auclair.
Tickets:
Online through Ticketfly HERE
By calling the Victoria Conservatory of Music Box Office: 250.386.5311
In person:
At the Victoria Conservatory of Music & Victoria Conservatory of Music's Alix Goolden Performance Hall Box Office (900 Johnson Street)

At the Cathedral Office (930 Burdett Avenue)

Ivy's Bookshop: 2188 Oak Bay Ave

Munro's Books: 1108 Government St